12 HEALTHY RESTAURANT MEALS WITH LESS THAN 500 CALORIES
|
Did you know that 90% of Americans don't like to cook at home? Can you guess how much it's costing you? According to the Bureau of Labor Statistics, we have about $3,008 per year per household. But I don't just mean how much money it's costing us.
Eating out at restaurants so often is also costing us A LOT in terms of our overall health and well-being. And this is a big reason why many people are so unhappy with their waistline! The average meal at a restaurant contains 1,205 calories versus the average meal at home which is between 500 and 700. That's important when you think about how often most households eat out!
Cutting down on eating out is very important, but I know how much more convenient it can be to eat out once in a while, too. That is why we need to start making better decisions when we visit a restaurant. Actually, there aren't many healthy chain restaurants, so eating healthy in a restaurant can be very difficult! That's why I did some research and found these 10 Healthy Restaurant Meals Under 500 Calories for you.
So you can know what you are going to eat before visiting a restaurant. Because knowing ahead of time what you're going to order can make a BIG difference in what you choose. Also, Here's a great list of the top 21 tips on how to eat healthy at restaurants.
1. APPLE BEES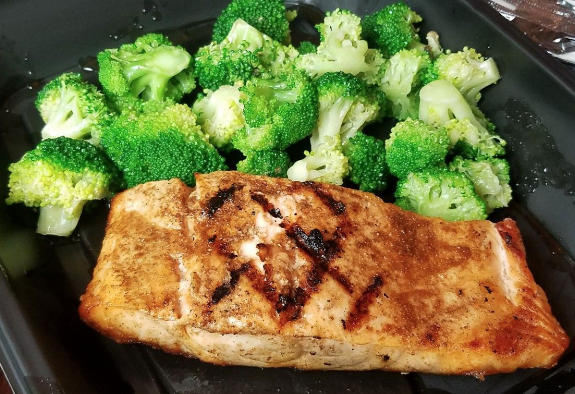 Grilled Salmon with Broccoli (No Butter) is packed with nutrients and super low in calories at just 290. And if that doesn't sound filling enough, doubling up on the broccoli will only add 30 more calories.
Salmon is one of the best sources of protein you can get and is rich in Omega-3 fatty acids. And eating salmon and broccoli regularly can help you lose weight and keep it off. You won't find a healthier option on the menu.
2. CHILIES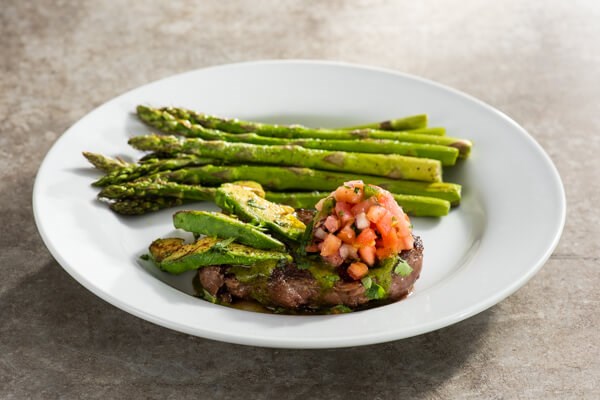 The 6 oz. Classic Sirloin with Grilled Avocado, served with roasted asparagus only contains 330 calories. And this meal is packed with nutrients that will help you feel completely satisfied.
Also check out Chili's Guiltless Grill items, all of which are 630 calories or less.
3. OLIVE GARDEN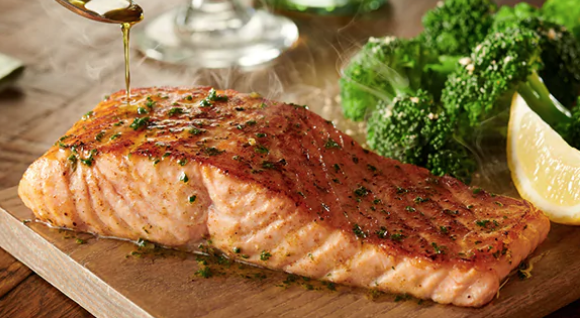 This Italian restaurant is certainly not known for being a healthy chain restaurant with its wide variety of pasta options, but the Herb Grilled Salmon and Broccoli is a great option that is super healthy and also low in calories at only 495 calories. .
Also check out their new low calorie menu with options under 600 calories.
4. RED LOBSTER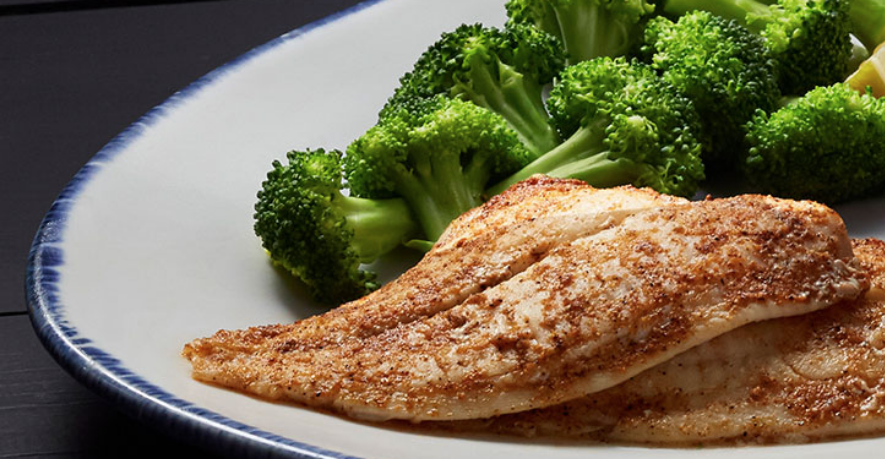 Oven-roasted flounder with asparagus packs 500 calories and might just be your new favorite fish. It's perfect if you like your fish soft and flaky. You can also choose broccoli as a side and save 40 calories.
5. TEXAS ROAD HOUSE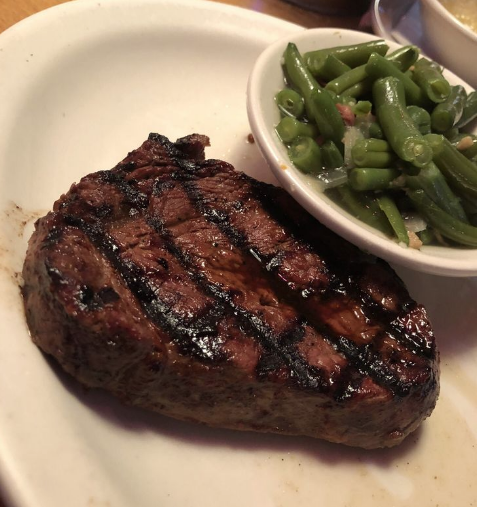 Try their juicy 6 to 8 oz. Sirloin steak or fillet steak with green beans and you won't be disappointed. There are only 400-440 (depending on size) calories in this meal. You can also double the green beans and that will only add another 100 calories to your total! And their green beans are so good!
6. CHEESE CAKE FACTORY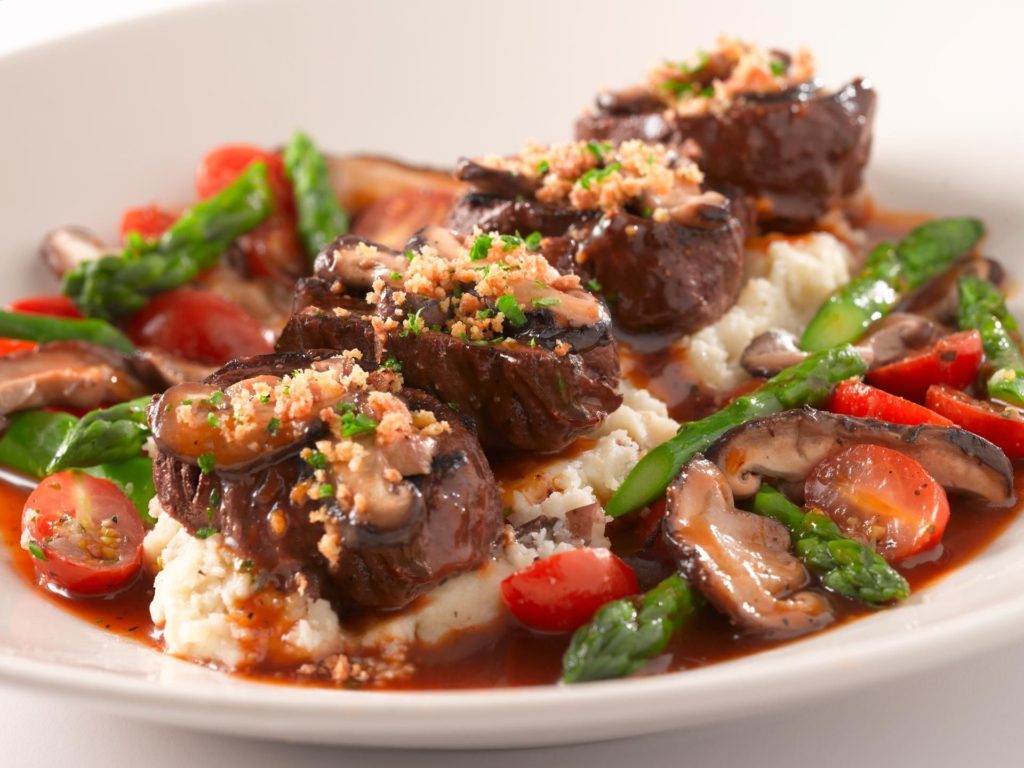 This is a great place to go because they have a lot of healthy restaurant meals under 500 calories on their Skinnylicious menu. Contains 50 items that are 590 calories or less.
Their grilled steak medallions are amazing and there are only 440 calories in this meal. Surprising since you get mashed potatoes!
This meal is an awesome benchmark for portion control. Portion sizes are insane in America compared to most countries in the world. Our small sizes are their large sizes. Moderation is key!
7. INTERIOR GRILL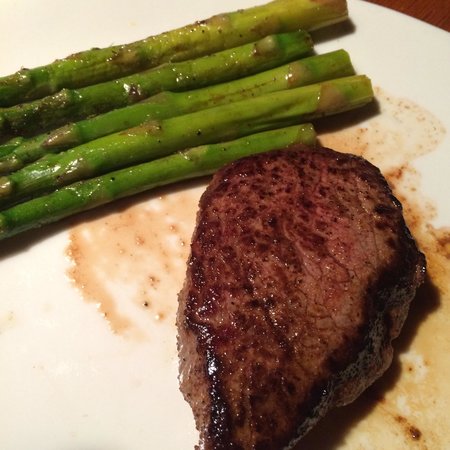 You can't go wrong with steak…unless you get a big 20oz steak. ribeye, of course, but get the 6 to 8 oz. sirloin or steak with asparagus only contains 300 – 380 calories. Not bad for dining out.
8. TGI FRIDAY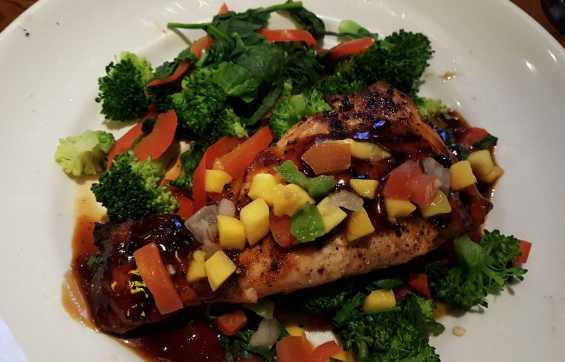 Their Dragon Glazed Salmon with Lemon Butter Broccoli is one of the healthiest menu items at this restaurant, packing in 480 calories. Opt for the broccoli without butter and double it for a healthier, lower-calorie meal.
9. LONG HORN ROAST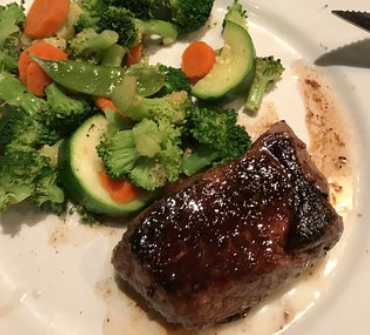 So, as you're probably starting to notice on this list, choosing a meat with vegetables is always going to be your best bet when choosing a meal. Longhorn's 6 – 8 oz. the sirloin with mixed vegetables only has 380 – 490 calories.
If you're looking for an extra side, the asparagus and broccoli will only add another 90 calories each.
10. RUBY TUESDAY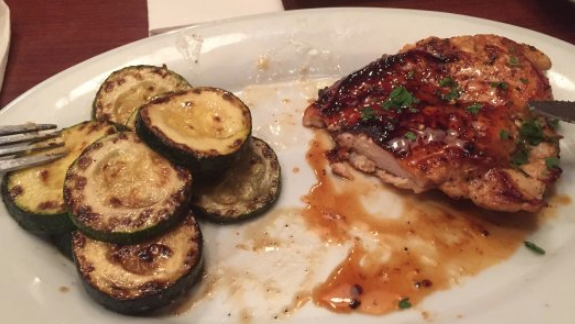 Their Hickory Bourbon Chicken with Zucchini is only 316 calories (one breast) and packs a ton of flavor! And if you're extra hungry, just double the zucchini!
11. BISCUIT BARREL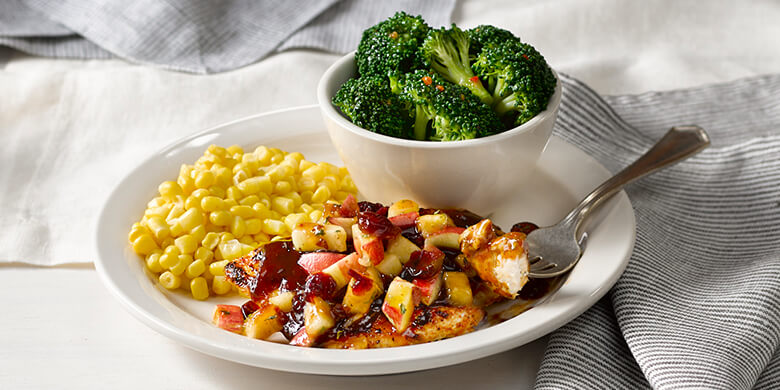 The Apple Cider Chicken Breast is only 290 calories and comes with a choice of two sides. You'll be fine if you choose any of these and still fall short of your goal of just 500 calories per meal.
Broccoli. Total calories = 30. Green beans. Total calories = 70. Corn. Total calories = 190. Turnip greens. Total calories = 190.
12.IHOP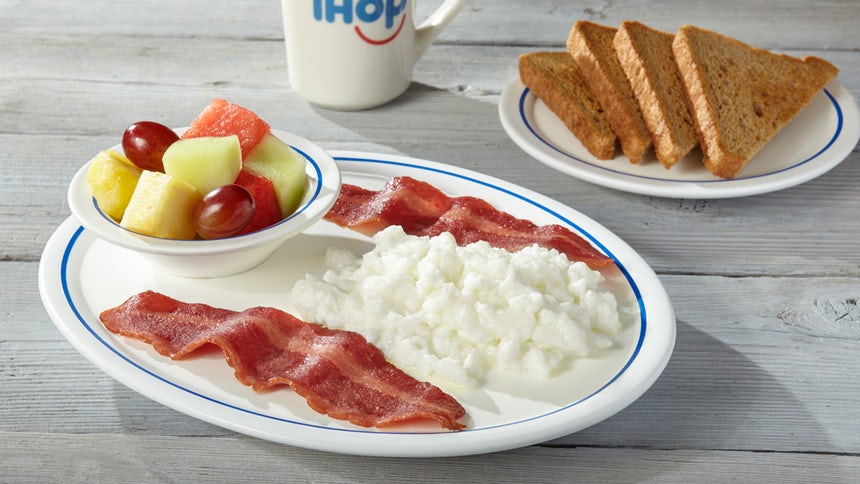 IHOP certainly doesn't have many healthy meals under 500 calories, but they do have a little hidden gem on the menu. Try the Simple & Fit Two Egg Breakfast. It comes with 2 scrambled egg whites, 2 slices of turkey bacon, fruit, and whole wheat toast. And it only contains 380 calories. Sounds like a healthy breakfast to me!
So which of these healthy restaurant meals under 500 calories are you going to order the next time you go out? Let me know below in the comments!
---
If you want a fat loss plan that actually WORKS, check out our 30 Day Fat Loss Habit Challenge!
The challenge lasts for 30 days, but you can take the challenge as many times as you need to reach your transformation goals!
If you've been struggling to lose weight for a while, I promise you won't regret trying the challenge! Just click the button below to learn more!