The New Jersey Devils confirmed on Monday that Mackenzie Blackwood would indeed be ready to go against the Ottawa Senators, playing his first game since January 19th. Blackwood has had a rough season, injuring his heel way back in training camp and never actually getting healthy until now. Blackwood was once considered one of the untouchable pieces on the roster. Now, he could be out the door as soon as this offseason.
How did we get here? How did the future netminder of the New Jersey Devils turn into a pariah for the front office and the fanbase? It all started at the beginning of the season when he was hesitant to take the COVID-19 vaccine, but then he got it. It never made him miss games, and he did the right thing. Who cares that he took more time than the rest of the team. He got the shot, but there are rumors the whole situation led to some discomfort for decision makers in Newark.
Then, Blackwood was forced to play the entire season on that bad heel. He rushed back to play his first game in early November to take some of the load off of Jonathan Bernier. Then, Bernier was lost for the season with a bad hip. Right before that happened, the Devils put Scott Wedgewood on waivers, and he posted a .911 save percentage with Arizona and a .917 save percentage with Dallas. Meanwhile, the Devils were forced to lean on Blackwood to save their season.
It didn't work, and his numbers plummeted as he was trying to play through injury. It also crushed his confidence on the ice, and he was allowing goals he never had before. He was making major mistakes, and the fanbase was putting a lot of blame on his shoulders. He was eventually shut down in January, and we haven't seen him since.
The Devils were testing an Andrew Hammond–Jon Gillies combo in net before Blackwood made his return. It went around average at times, but more often it went terribly. The Devils have the worst goals saved above average right now, and they aren't even close to the second to last team. Goaltending has ruined this season.
The prevailing thought is that the Devils will look for a new goalie or goalies in the offseason. What does that mean for Blackwood? He might get traded, or he might get one more shot with this franchise. He's still only 25 years old.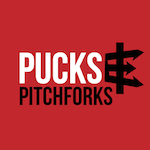 Want your voice heard? Join the Pucks And Pitchforks team!
Write for us!
Can he prove himself in just two games? The Devils already said he's playing Tuesday and Friday. If he pitches two shutouts, would that change how the Devils look at him? Can he claim the starting job again this week? Was this really all due to his injured foot? Some of the questions surrounding Blackwood can't be answered this week, but with an open mind, some can.